UPSC CSE 2020 Topper (AIR 69) Dr.Akshita Gupta Medical sciences optional
UPSC MEDICO Congratulates Dr.Akshita Gupta for securing AIR 69 in UPSC CSE 2020 Examination. 
She secured Highest Marks 299 out of 500 in medical sciences optional.
Ethics and optional(299) saved me. I was expecting more in Essay and interview. I got highest marks in medical science optional.
Preparation strategy for MEDICAL SCIENCES OPTIONAL
Finished MBBS from Government Medical College & Hospital, (GMCH) Chandigarh, India.
Total MBBS Pass Percentage 67.5%
Started preparation in the third year of MBBS
Final year was the most hectic. Huge syllabus of MBBS made me leave UPSC preparations aside for 4 months which covered pre-finals and finals. This break was difficult to cover up. I couldn't even touch history subject in whole time.
Gave attempt during the internship, took an extension of 1.5 months and completed internship after mains examination
I was inspired during MBBS and went for UPSC when I met few officers working in this field. Their work and various opportunities motivated me to pursue it as career ahead.
Syllabus topics and pyqs need to be done (Here is the Focus guide for reference which I used-DO THEM ALL)
I did few subjects like surgery, medicine and anatomy half before prelims. Rest all after prelims.
I revised my notes on daily basis with my friend.
We used to set targets to finish off topics and subjects.
Started with anatomy(paper 1) and ended with psm(paper 2).
We also did answer writing practice for various subjects.
I gave one mock of paper 1 to check my preparation. It was difficult. I couldn't complete the paper even in 3.5 hours.
I realized it is important to finish the paper first, and then content. Tried to shorten answers. Was able to finish both papers in actual mains.
I focused more on test series for UPSC CSE preparation.
Test series are of huge importance in entire preparation. Ever get confused on where to start and how to start, join a test series and follow the schedule. That will give you the desired push and then you can carry forward on your own
Diagrams and flow charts are very important.
Importance of diagrams in medical science:
1. Takes less time to explain the concept.
2. Less words than paragraphs
3. Clean and well labeled enhances the presentation
4. Shows the depth of knowledge regarding topic.
Must be practiced well to draw within lines and in a limited space.
Learn to write fast, veryyy fast. Must finish within time.
Sharing my Sample answer for medicine question (Bronchial Asthma) for reference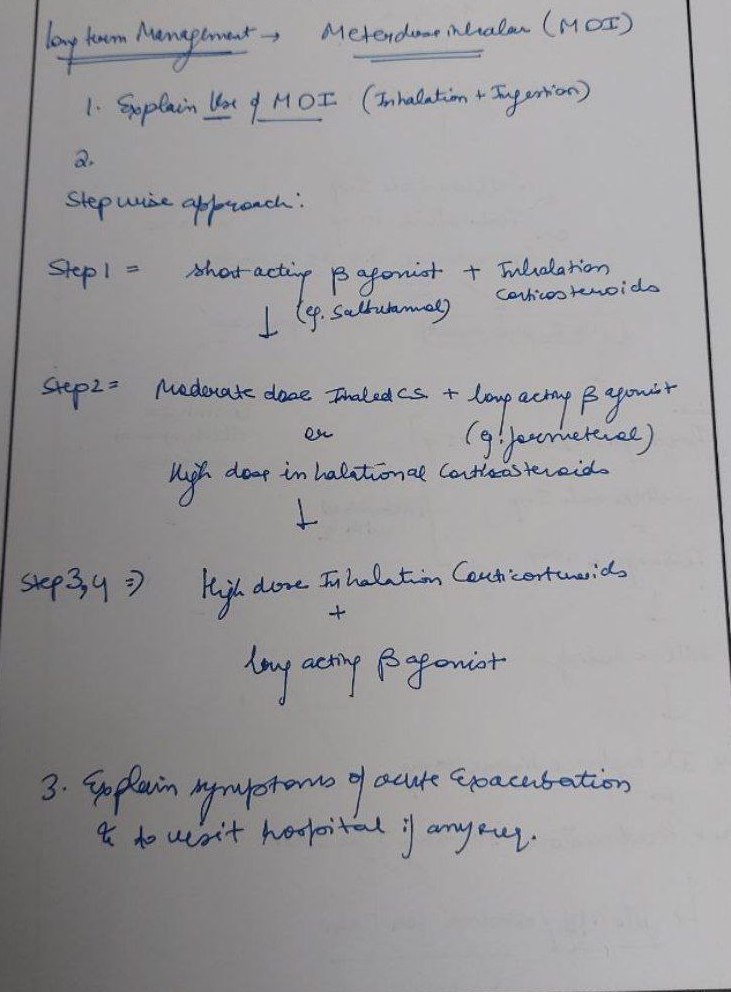 INTERVIEW QUESTIONS-TRANSCRIPT (Medical science related)
What is medical ethics? Give 3 main characteristic ethics?
Laqshya program?
Infant Mortality Rate is high in a district. As an officer What will you do for hospital to prevent mortality?
Will you go for further studies and PG?
What you did after 2019 during COVID times. What we did in second wave, What could have been better?
Use of medical sciences knowledge in IPS ?
Everyone is unique. Everyone has his/her own strength and weakness.
Don't rely completely on someone's strategy blindly. Just take away some good points, some notes, some methods and ultimately frame your own journey.

MEDICAL SCIENCE is an amazing optional. Go for it, you can do it well.